Improve your home's curb appeal with our help.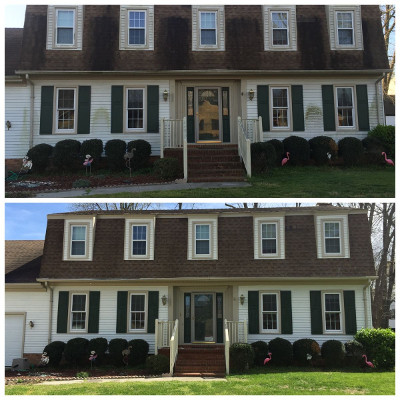 Since your home is constantly exposed to the elements, it's normal for it to start looking dirty and grimy over time. This can impact your home's curb appeal and make your house look older than it actually is. If you're ready to freshen up your home's appearance and enhance your curb appeal, turn to us at O & S Cleaning Solutions for highly effective exterior house washing services.
We do both power washing and soft washing, depending on what the individual home needs. Although power washing may be what you originally relied on to keep your home clean, we're excited to introduce you to what soft washing can do for your property. This form of exterior house washing is gentle on surfaces and eliminates dirt, grime, and buildup at its source. As a result, your home looks cleaner and the results last for longer. This leads us to recommend soft washing for most properties we work on.
Our exterior house washing solutions are backed by a team of highly trained, professional, and friendly technicians who want to get great results for your home. We can clean everything from your home's roof to its foundation, and we guarantee you'll love the way your home looks after we're done.
Exterior House Cleaning with O & S
Our exterior house washing team is ready to get to work beautifying and cleaning your home in the Lawrence, Kansas area with our highly effective solutions. Contact us today to learn more about our house cleaning company and what we'll do to exceed your expectations.
---
At O & S Cleaning Solutions, we offer exterior house washing services in Manhattan, Fort Riley, Lawrence, Junction City, Topeka, Ogden, Saint George, Riley, Louisville, Westmoreland, and Belvue, Kansas.
Similar Services We Offer: