Protect and improve the appearance of your home with our exterior house washing services.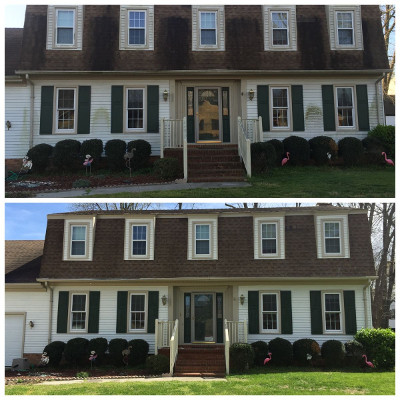 There are many things that can make your Manhattan, Kansas home look a bit less appealing. Your sprinklers could leave a spotted residue on your siding, mowed grass landing on it could discolor it, algae on the roof or siding, and grime and dust accumulates over time. At O & S Cleaning Solutions, we understand that you want to feel proud of your home. How it looks is important to you, but you may not have the equipment, expertise, time, or desire to keep up with exterior house washing. That's where we come in as a trusted exterior cleaning company serving both homes and businesses.
We utilize a revolutionary SoftWash™ system that gently cleans your home's siding and roof. It is very effective on any grime and is even a great rust cleaner. Furthermore, this exterior house washing technique fits with our desire to offer Organic and Safe options, which is where our name of O & S comes from. We also offer other exterior home cleaning services, including gutter cleaning, driveway cleaning, and concrete washing.
We recommend exterior house washing be done on an annual basis. You should also consider having it done before putting your home on the market, as it will increase curb appeal and help you get your home sold quicker and at the highest possible selling price. One of the reasons why we recommend this be done annually is because some contaminants can cause damage over time, such as algae and debris left on the roof, which can shorten the roof's life. Regular removal is the best way to keep your home in top condition and avoid problems. If you would like to know more about any of our services or schedule exterior house washing, don't hesitate to reach out to us.
---
At O & S Cleaning Solutions, we offer exterior house washing services in Manhattan, Fort Riley, Lawrence, Junction City, Topeka, Ogden, Saint George, Riley, Louisville, Westmoreland, and Belvue, Kansas.
Similar Services We Offer: