When it comes to roof cleaning homes and businesses, we have all the right equipment and knowledge to safely clean your roof and other delicate surfaces.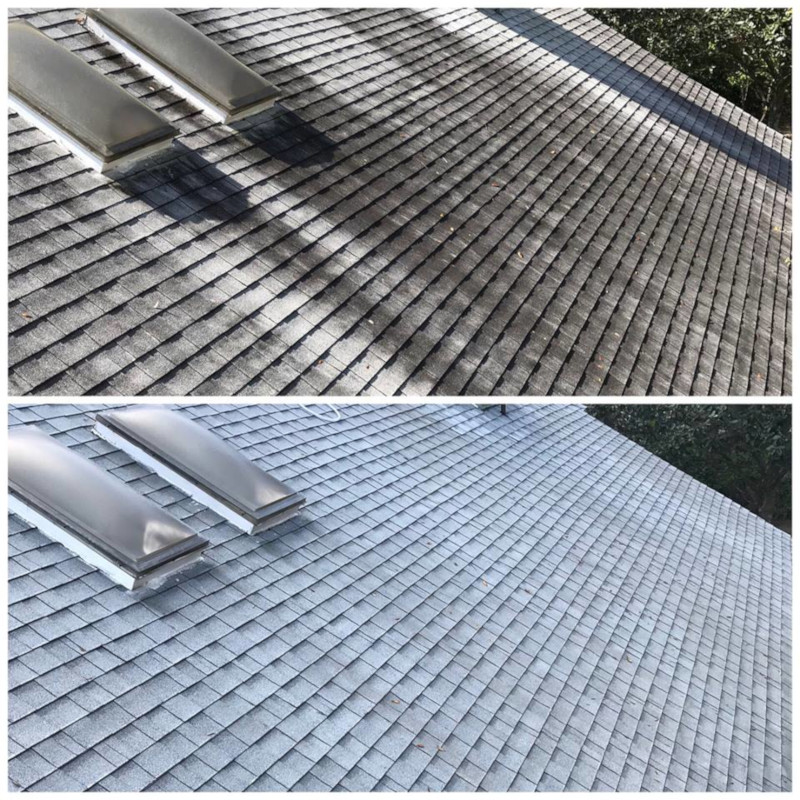 Over time, your roof gradually changes color and may develop some algae or mold growth if there is significant shade. You may not even notice these changes because they happen so slowly. But you can be sure that after you call us here at O & S Cleaning Solutions and have a thorough roof cleaning performed, you will notice a big difference right away. We are licensed and insured, and our expert technicians will use the best equipment and the most effective cleansers to safely clean your roof, keeping it looking great for longer and even extending its life.
Roof cleaning is not a good do-it-yourself project. You need the proper equipment and training to be safe on the roof. It is also very possible to damage your roof if you use improper techniques or high-pressure water. Our soft wash roof cleaning protects your roof and is perfect for other delicate exterior surfaces around your home or business as well. If you are thinking about selling your property, roof cleaning can help you get the best price and sell it faster because it can increase the curb appeal dramatically.
To extend the life of your roof and keep it looking great, we recommend scheduling routine roof cleaning and maintenance. We can also perform gutter cleaning at the same time, removing leaves, sticks and other debris that clog up your gutters and keep them from performing their job. Clogged gutters can cause water damage to your roof and other parts of your building. If you need roof cleaning or other professional cleaning services at your home or business near Manhattan, Kansas, give us a call today.
---
At O & S Cleaning Solutions, we offer roof cleaning services in Manhattan, Fort Riley, Lawrence, Junction City, Topeka, Ogden, Saint George, Riley, Louisville, Westmoreland, and Belvue, Kansas.
Similar Services We Offer: