Our siding cleaning services can be adjusted to suit your home or business, no matter what type of siding it has.
There are many different types of siding that are commonly used in and near Manhattan, Kansas. Your property may have wood siding, vinyl siding, aluminum siding or other exterior materials like brick, stone or stucco. Whatever type of siding your home or business has, you can be sure that our expert technicians here at O & S Cleaning Solutions know how to properly perform siding cleaning to keep the exterior of your property looking its best. Our superior equipment and effective cleansers also deliver results that are long-lasting.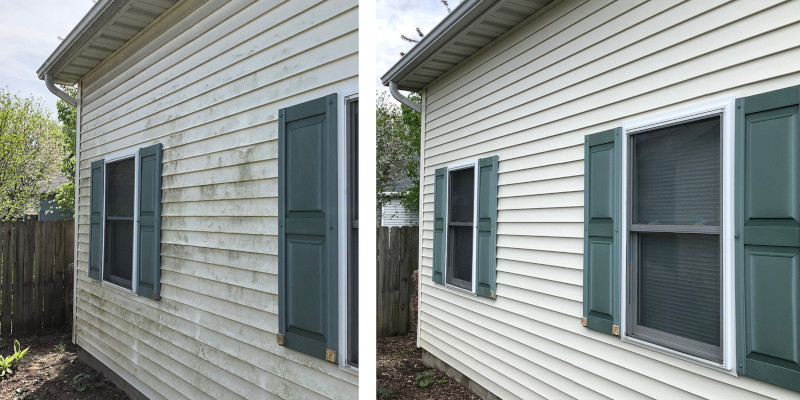 When it comes to siding cleaning, we use two main methods:
Power washing: When you think of siding cleaning, you probably think of power washing. This method uses a combination of cleansers and a high-pressured stream of water to deeply clean surfaces. It can be very effective on many surfaces, but it can also cause damage to certain surfaces like asphalt shingles, wood, vinyl and even some concrete and stone if the pressure used is excessive.
Soft washing: This type of cleaning is recommended for more delicate surfaces that can be damaged by power washing. As the name suggests, it is a gentler alternative. Even with soft washing, our trained technicians can provide superior results you will love. We are the first and only SoftWash Systems authorized company in the state of Kansas.
There are many reasons to consider siding cleaning for your home or business. Not only can it improve the look and curb appeal of your property, but it can also help your siding last longer while looking great. Give us a call today to schedule your siding cleaning.
---
At O & S Cleaning Solutions, we offer siding cleaning services in Manhattan, Fort Riley, Lawrence, Junction City, Topeka, Ogden, Saint George, Riley, Louisville, Westmoreland, and Belvue, Kansas.
Similar Services We Offer: